Since the O&A working group was started in the fall of 2019 a lot has changed. Digital transformation initiatives have been accelerated, largely due to the pandemic. The adoption of cloud computing and all things SaaS has dramatically increased within Enterprise IT. With the rise of Hybrid infrastructure and edge compute new holistic security challenges, and availability have become major pain points, especially when networks scale and IT talent is scarce.  Therefore the importance of automation has moved up into the top five most important initiatives within most organizations.
When formed, the decision was made to put "orchestration" in front of "automation" in the name of the working group, since it was viewed that there were a lot of automation solutions, but a gap in the ability to orchestrate end-to-end. From late 2019 until now, a lot of progress has been made in the ability to orchestrate, largely due to the availability of REST-based APIs and products, both open source and commercial that can onboard APIs and automate end-to-end processes.
With the recent combination of the AIOps working group into the O&A working group, the charter and focus has expanded and resulted in the decision to rename to the Hyperautomation Working Group.
Hyperautomation is a recent buzzword being used in the industry, one that Gartner has put out a definition for here.  It is described by Gartner to be: 
Hyperautomation is a business-driven, disciplined approach that organizations use to rapidly identify, vet, and automate as many business and IT processes as possible. Hyperautomation involves the orchestrated use of multiple technologies, tools, or platforms, including:
Artificial intelligence (AI)

Machine learning

Event-driven software architecture

Robotic process automation (RPA)

Business process management (BPM) and intelligent business process management suites (iBPMS)

Integration platform as a service (iPaaS)

Low-code/no-code tools

Packaged software

Other types of decision, process, and task automation tools
Many of these technologies have been a part of the O&A working group content including ONUG presentations, blogs, and the published O&A Taxonomy document. With the combination of the AIOps working group and discussions to expand the scope, the decision to use Hyperautomation as the name of the workgroup group aligned well with current work efforts and is aspirational to expand into new areas of work. The working group charter has been expanded to include these key focus areas: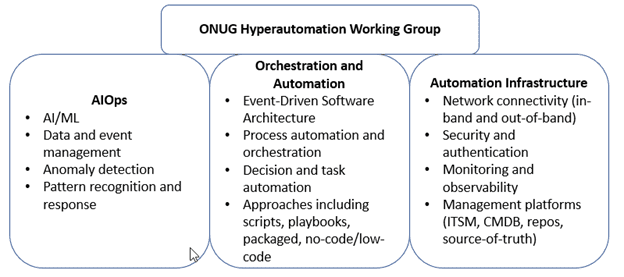 The expanded areas of work are a result of the interest in the community and participation of enterprises and vendors contributing to the working group efforts. These focus areas are driven by the evolution in the marketplace and the changes across people, processes, and technology within Enterprise IT since 2019 that include:
People
Organizations are looking to reduce organizational silos, so combining teams, or aligning teams under the same management and strategic initiative

Automation has become a strategic top down initiative in most organizations

New roles are emerging with both broader reach and more specialization

DevOps, NetDevOps, DevNetOps roles

Automation Engineers

Site Reliability Engineering (SRE)

Cloud Engineers and Architects
Process
Most organizations are driving infrastructure change activities through IT Service Managers (ITSMs), like ServiceNow, Remedy and others. This serves to document Move/Add/Change requests as well as track the change status and approval.

Recently more organizations are looking at implementing a CI/CD approach to the infrastructure including the O&A approach to develop/build -> Test -> Deploy -> Monitor (repeat).

With Gartner (and others) using the Hyperautomation term, more C-level visibility is now on the approaches to automation including no-code/packaged, low-code, process automation, AI/ML – AIOps, and more.

Building trust through de-risking O&A-related changes through governance, change tracking, and approval along with pre and post-check verification. Many organizations have started centers of excellence for O&A initiatives.
Technology
API capabilities and the ability to integrate platforms has become a key requirement for systems used in infrastructure management (both southbound to the infrastructure and northbound to the management plane).

Observability has emerged as a significant advancement over basic SNMP monitoring – it combines data from more sources including telemetry to provide more information and real-time processing to have better data-driven insights.

Intent-based networking technologies have improved and better orchestration technologies are available to automate end-to-end processes (aka process automation).  along with the ability to trigger processes via API calls or other inputs (aka event-driven). Organizations are evolving from scripted and task-based automation to automating and orchestrating full end-to-end processes across devices and systems. There is also a requirement to democratize O&A, evolving from having individuals writing and running scripts.

Cloud has continued to evolve, more requirements have developed around multi-cloud and hybrid cloud. Organizations are realizing not everything can go to the cloud, and some are not able to use public cloud. They are still looking for the value provided by automation and software control demonstrated in cloud. Many also want or need services in what we call collectively hybrid infrastructure.  For example, addressing automation for on-premises servers in colocation requires different best practices than what's required in the public cloud.

Where and how the applications are deployed has evolved with microservices, containerization, and services, like Kubernettes and other technology-specific automation/orchestration.

AI/ML has become reality in many organizations for business services and applications, but not many implementations are real and usable for the IT infrastructure. Some vendors have released/provided some domain-specific solutions, like those from Juniper/Mist, F5, Cisco, Arista, and others. AIOps, where AI is used to improve IT infrastructure management, is still considered a future in most IT organizations. With any AIOps product, trust has to be established before an Enterprise will be permitted automation to make changes in an environment without human oversight.
This is the first blog in a series of blogs from the newly renamed ONUG Hyperautomation Working Group. Stay tuned for more content that goes deeper into each area of focus. Go here to learn more about the ONUG Hyperautomation working group, read the updated charter and join the collaborative.