Across industries, enterprise network architects are adding new agility and flexibility to their network infrastructure stacks through public cloud technologies like Amazon Web Services (AWS) and Microsoft Azure Infrastructure as a Service (IaaS) offerings. While the benefits of network elasticity, cost savings, and capex avoidance are relatively well understood, NetOps professionals often struggle with managing and automating the operations and troubleshooting of cloud environments synchronously with the physical environments under their watch. Multi-cloud environments only add to this struggle.
Perhaps this sounds surprising as cloud services are often portrayed as turnkey. And as true as that may be, public cloud environments cannot live in a bubble in your network stack and be effective. These environments, often comprised of multiple clouds (known as multi-cloud), must play well with the entirety of the network infrastructure, and NetOps must understand how multi-cloud supports mission-critical business applications, and thus, business objectives. In reality, multi-cloud can introduce unexpected complexity to NetOps professionals who may have little training in the nuances of running cloud-based networks.
The resultant heterogenous networks resulting from multi-cloud adoption are here to stay. Whereas NetOps professionals are likely able to leverage years of experience with CLI to troubleshoot and automate traditional networks, they don't have this option in multi-cloud environments. As a result, NetOps does not have the same exposure to data about interference, condition of resources, CPU capacity, and memory that they would in a traditional environment. Further, without a centralized platform, NetOps lacks standardized network data. This leads to problems in several critical areas:
Validation and verification. Disjointed visibility planes in the network stack mean difficulty for validation and verification of network processes.
Similarly, siloed NetOps environments create visibility gaps that make it hard to ensure protocol compliance on the network.
Visualizing network boundaries. NetOps must be able to visualize the boundaries between public cloud environments and other topologies and technologies, understanding where different applications are being sourced and the paths that they must travel to ensure business outcomes. You need unified visibility spanning the WAN, LAN, traditional datacenters, and public cloud environments, encompassing physical, virtual, and software-defined infrastructure.
Ecosystem Integration. Lastly, IT operations is an ecosystem of tools and data, telemetry and analytics, all critical to maintaining uptime and SLAs. Today's drive to multi-cloud adds even more data and more tools for operations teams such as cloud native monitoring tools, logging and billing systems, and service analytics tools. Pulling in the right data for the right problem with the inherently disjointed nature of multi-cloud poses challenges for front line teams. Uniting such diverse forms of IT data into a single end-to-end view is critical for multi-cloud network efficiency.
Visualizing network boundaries is a great first step, but that alone is not enough. NetOps needs to transcend those boundaries not just through visibility, but also with the ability to automate operations across the network. A scalable, extensible network automation platform can help eliminate the learning curve and potential silos that public cloud adoption brings. This allows NetOps to keep shifting workloads to the left and allow senior network engineers to focus on the increasingly important work of aligning the network to evolving digital business objectives.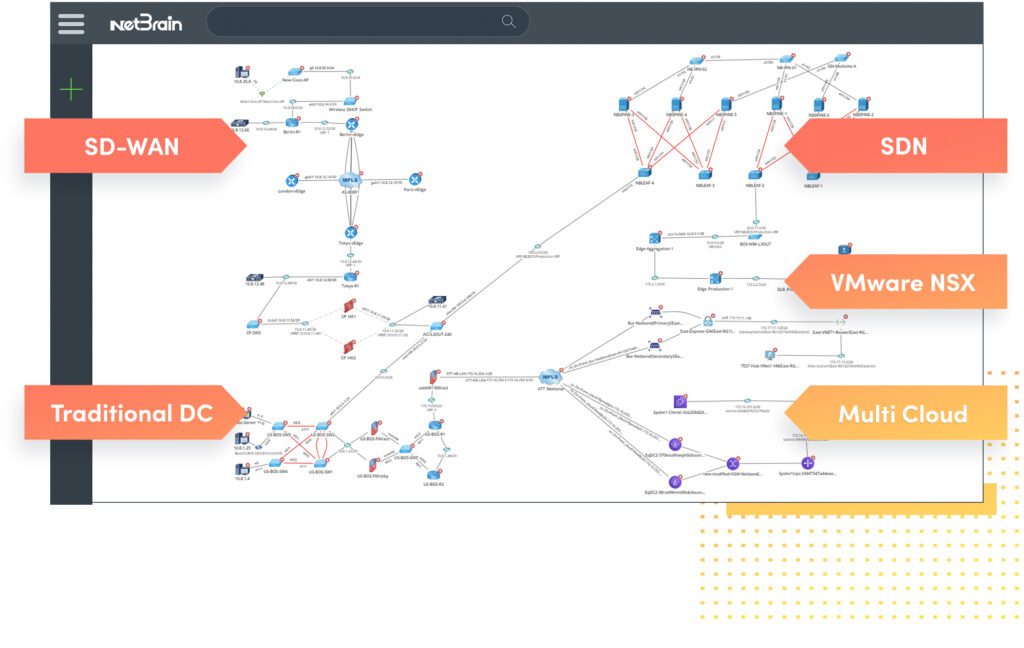 Fig. 1 –  NetBrain Dynamic Map showing multi-cloud environment alongside traditional, virtualized, and software-defined elements of an enterprise network.
To learn more about how NetBrain supports automated NetOps, visit www.netbraintech.com and be sure to visit NetBrain's digital booth at ONUG Spring 2021.