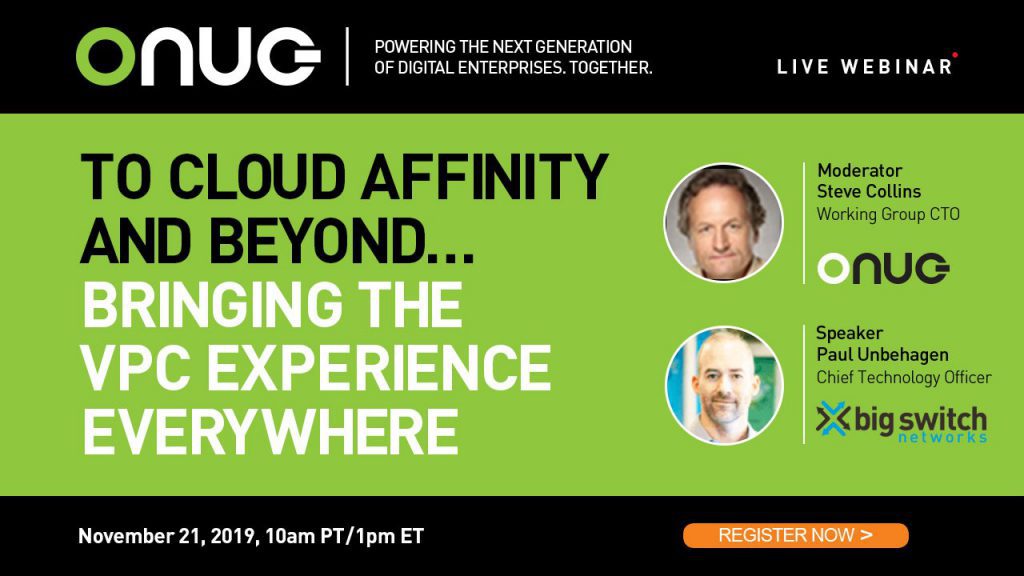 To Cloud Affinity and Beyond … Bringing the VPC Experience Everywhere
Cloud networking is to the data center what cloud computing is to the virtual machine. Its innovation that's monumental, not incremental. Changing how we construct hierarchies in the data center architecture. Going far beyond the simple models of network virtualization we have become accustomed to today. Leveraging, VPC's to mobilize the entire data center. Not just the applications. Acting like a flying car experience to all services; freeing a vehicle stuck in a traffic jam on the highways of legacy data centers.
Advancements in the hierarchal designs of the data center architecture have ushered in new expectations of a hybrid multi-cloud experience. Viewing each data center as a separate cloud is archaic. We need to have a modern approach to create a homogenous hybrid multi-cloud solution. Because, cloud isn't a location, it's a set design principle.
In this webinar, Big Switch CTO, Paul Unbehagen and ONUG CTO, Stephen Collins will discuss how Cloud Networking is achievable for enterprises on-prem. Offering an effortless means to adopt advanced technical abilities and features that normally would require a professional cloud provider to obtain. Redefining where "as-a-service" comes from. Enabling your internal IT organization to be consultants to the business needs. It's time to bring the VPC experience everywhere.
Special Offer: Attendees will receive a complimentary copy of our eBook, 7 Principles of Cloud-First Networking.
What You'll Learn:
Discover what the biggest challenges organizations face in scaling hybrid cloud networks? 

Learn from the top best practices needed to scale a secure hybrid network

Gain insights into the future of cloud-based solutions and how to prepare your organization to succeed 
Who Should Attend:
Network Engineers

IT Managers 

Network Architect 
Speaker Bio:
Paul Unbehagen has over 20 years of experience in a broad range of network protocols and solutions. His professional history provides him with a well-versed background in creating technology used by the US Military, to large enterprises and startups. Driven by the belief that multiple perspectives offers insight otherwise left undiscovered; he has been able to bring innovation and continuous contributions to modern routing protocols including: MPLS, BGP, OSPF, IS-IS, SPB; and co-author of IEEE 802.1aq Shortest Path Bridging, in both the IEEE and IETF. With numerous patents granted and pending, Paul continues to challenge the industry to build networks for the future.
---
Already have an account?
ONUG is committed to protecting and respecting your privacy, and we'll only use your personal information to administer your account and to provide the products and services you requested from us. From time to time, we would like to contact you about our products and services, as well as other content that may be of interest to you. If you consent to us contacting you for this purpose, please tick below to say how you would like us to contact you:
You can unsubscribe from these communications at any time. For more information on how to unsubscribe, our privacy practices, and how we are committed to protecting and respecting your privacy, please review our Privacy Policy.
By clicking submit below, you consent to allow ONUG to store and process the personal information submitted above to provide you the content requested.