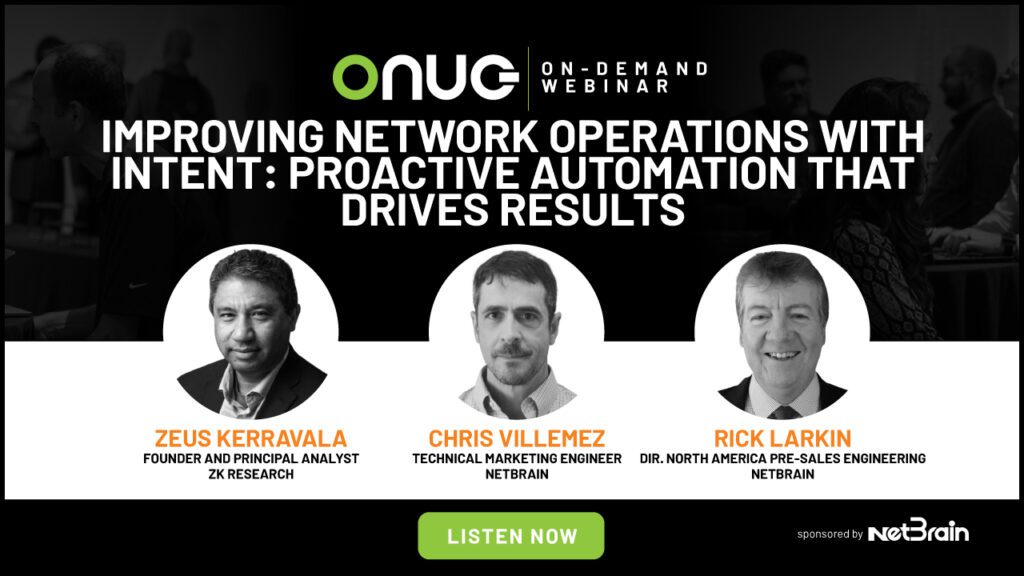 NETBRAIN Webinar – Improving Network Operations with Intent: Proactive Automation that Drives Results
The concept of "network intent" has generated a lot of discussions in networking and IT circles over the past few years, but what does intent actually mean for network uptime and smoother network operations?
As it turns out, intent means a whole lot – networks are not just clusters of nodes, but rather consist of thousands of intents, such as application paths, security policies, and so much more. In this webinar, join NetBrain's Sr. Technical Marketing Engineer, Chris Villemez and Rick Larkin, Manager, Pre-Sale Engineering as they discuss Intent-Based Automation and how this innovation helps users quickly build complex automations for verification, validation, and pre-emptive troubleshooting. NetBrain will show live demos of intent-based automation to illustrate the art of the possible with this groundbreaking technology.

What Attendees Will Learn:
Hype vs. reality of network intent technologies

The difference between seeing the network as clusters of nodes vs. seeing it as a set of intents

How NetBrain defines network intent

Making network operations more proactive: What intent-based automation looks like in action

Who Should Attend?
Network operations professionals

Network engineer

Network systems engineer

Network support engineer

Network operations engineer

Leaders, Directors, Senior Managers of Network Infrastructure, Network Operations, Network Management, Network Support

Leaders, Directors, Senior Managers of IT Infrastructure, Operations

---
Already have an account?
ONUG is committed to protecting and respecting your privacy, and we'll only use your personal information to administer your account and to provide the products and services you requested from us. From time to time, we would like to contact you about our products and services, as well as other content that may be of interest to you. If you consent to us contacting you for this purpose, please tick below to say how you would like us to contact you:
You can unsubscribe from these communications at any time. For more information on how to unsubscribe, our privacy practices, and how we are committed to protecting and respecting your privacy, please review our Privacy Policy.
By clicking submit below, you consent to allow ONUG to store and process the personal information submitted above to provide you the content requested.