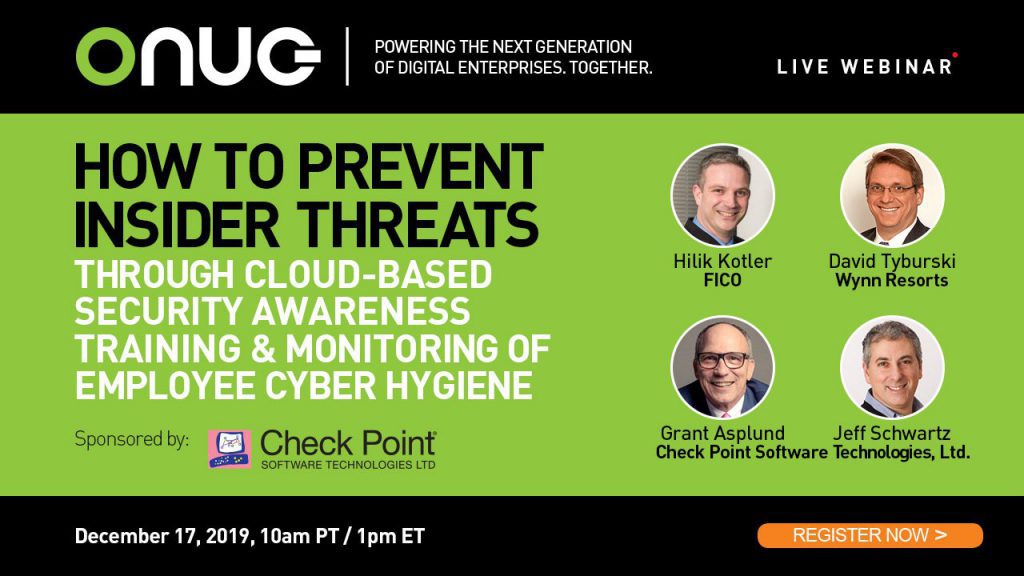 How to Prevent Insider Threats through Cloud-based Security Awareness Training & Monitoring of Employee Cyber Hygiene
Albert Einstein said, "I never teach my pupils, I only provide the conditions in which they can learn."
Preventing Insider Threats through cloud-based security monitoring, policies & education brings enterprises one-step closer toward a robust security strategy.
Great cyber hygiene is not just the learning of the facts; it is rather the training of the mind to think critically. If our cyber teams, our I.T. departments & in fact all our Users do not learn the way we teach, maybe we should teach the way they learn, in addition to training on the minimal necessary required facts.
Imagine a unifying policy across mobile, the end-point, the edge, the network & the cloud, based on self-remediating actions from Users that allows security to scale at the speed of data.
Come join ONUG for a virtual-panel discussion on preventing Insider Threats & reducing the noise of false-positives from complicated integration of disparate technologies, thus limiting the information overload teams require, through effective cyber training.
What You'll Learn:
The high-level concepts of a prevention-first architecture

How to integrate your LMS to cyber rule sets 

Tools for identifying insider threats in near real-time 
Who Should Attend:
CISOs, VP HR, Cyber Directors responsible for cyber awareness training

Anyone responsible for making high-level educational decisions

Anyone responsible for the cyber health of the company
---
Already have an account?
ONUG is committed to protecting and respecting your privacy, and we'll only use your personal information to administer your account and to provide the products and services you requested from us. From time to time, we would like to contact you about our products and services, as well as other content that may be of interest to you. If you consent to us contacting you for this purpose, please tick below to say how you would like us to contact you:
You can unsubscribe from these communications at any time. For more information on how to unsubscribe, our privacy practices, and how we are committed to protecting and respecting your privacy, please review our Privacy Policy.
By clicking submit below, you consent to allow ONUG to store and process the personal information submitted above to provide you the content requested.